Namibia's Urban Future: Rethinking Housing and Urbanisation (Book of Proceedings)
The book of proceedings of the Urban Forum 2017, which took place in Windhoek in Freburary 27th and 28th is now available as an e-book.
The book was edited by Guillermo Delgado, Integrated Land Management Institute coordinator and Phillip Lühl, Department of Architecture and Spatial Planning, Namibia University of Science and Technology.
It includes contributions by by Richard Dobson, from Asiye eTafuleni; Anthea Houston, CEO of Communicare; Bulelwa Makalima-Ngewana, former CEO of the Cape Town Partnership; Nina Maritz, principal at Nina Maritz Architects; Diana Mitlin, professor at the Univeristy of Manchester and Principal researcher in Human Settlements at the International Institute for Environment and Development; Rose Molokoane, from the South Africa SDI Alliance; Sheela Patel, from the Society for the Promotion of Area Resource Centres; Kwame Tenadu, Chair of the Commission on Spatial Planning and Development, International Federation of Surveyors (FIG); Cecile van Schalkwyk, Lawyer at the Legal Resource Centre; as well as from Members of the Shack Dwellers Federation of Namibia and the Namibia Housing Action Group.
The volume includes a foreword by Leilani Farha, former United Nations Special Rapporteur on adequate housing.
It also includes an introduction by the editors, and a transcript of the welcoming remarks by Prof Tjama Tjivikua, former Vice Chancellor at NUST; and Cde Sophia Shaningwa, former Minister of Urban and Rural Development.
YOU CAN DOWNLOAD THE FULL E-BOOK HERE

Alternatively, each section can be downloaded separately below:
Introductory sections, download all HERE. 
SESSION 1: Informal urbanisation and peoples' processes by Rose Molokoane (download HERE)
SESSION 2: Community-based urban strategies and social innovation by Sheela Patel and Members of the Shack Dwellers Federation of Namibia and the Namibia Housing Action Group (download HERE)
SESSION 3: Urban livelihoods, the informal, and new roles for professionals and local government by Richard Dobson (download HERE)
SESSION 4: Urban design, public space and local governance: Experiences of the Cape Town Partnership by Bulelwa Makalima-Ngewana (download HERE)
SESSION 5: Social housing and finance by Anthea Houston (download HERE)
SESSION 6: Experiences with the right to adequate housing in South Africa: A socio-legal perspective by Cecile van Schalkwyk (download HERE)
SESSION 7: Urban land reform, tenure options and land administration by Kwame Tenadu (download HERE)
SESSION 8: Design, construction and sustainable spatial processes by Nina Maritz (download HERE)
SESSION 9: Housing strategies in Namibia by Diana Mitlin (download HERE)
---
This book is licensed under the Creative Commons Attribution-NonCommercial 4.0 International License. To view a copy of this license, visit http://creativecommons.org/licenses/by-nc/4.0/
---
ISBN (Print) 978-99916-903-5-3
ISBN (Electronic) 978-99916-903-6-0
---
 ACKNOWLEDGMENTS
The editors would like to express our deepest gratitude to –
• All who attended and contributed to making this a momentous event, reenergising= the debate on housing and urbanisation
• All the speakers, particularly those who travelled long distances to join us in Windhoek for the event
• Geraldine van Rooi, Jennifer Botha, and Charl-Thom Bayer for competently moderating various sessions
• The Ministry of Urban and Rural Development (MURD) for partnering with NUST to make the event possible, and all the partners who joined the MURD–NUST alliance
• The NUST community, particularly NUST's Hotel School, for all their positive contributions during the event
• The SDI for making it possible for Rose and Sheela to travel to Namibia to attend the Forum
• All the institutions that supported this event, in particular the City of Windhoek, the GIZ, Windhoek Consulting Engineers and the Namibia Institute of Architects
• Lydia Muadinohamba and Tangeni Shindondola for their coordination of aspects of the event
• Muna Anguwo, Jacqueline Tjozongoro and Elizabeth Shigwedha for taking care of the administration
• Those who assisted in the review of the MHDP Blueprint, namely Gerhardus Beukes, Rosine Biraheka, Kaleb Dumeni, Pandeni Gama, Samantha Hailombe, Diina Hamuteta, Luise Iipumbu, Simao Lobo, Rymoth Mbeha, Memory Mudabeti, Queen Muluta, Martin Namupala, Herman Paulinus and Charisma Shipena
• Sara Nakalila, Nangula Shilongo and Esther Shipuata for taking charge of the exhibition on housing alternatives at the event
• The German Development Bank KfW , the National Housing Enterprise, the international design studio Graft, and the Namibian companies Bob Mould Architects, Nina Maritz Architects and Winfried Holze Architects for exhibiting their work for this event
• The insitutions that made the Forum possible; such as the German Cooperation Agency GIZ, Windhoek Consulting Engineers, the City of Windhoek, and the Namibia Institute of Architects
• Sandie Fitchat for language editing the final version of the publication
• Arnaud Franx-Roi Arends for its design and layout
• Nashilongweshipe Mushaandja for sharing ideas on the way the publication could be a more generative device than merely a static archive.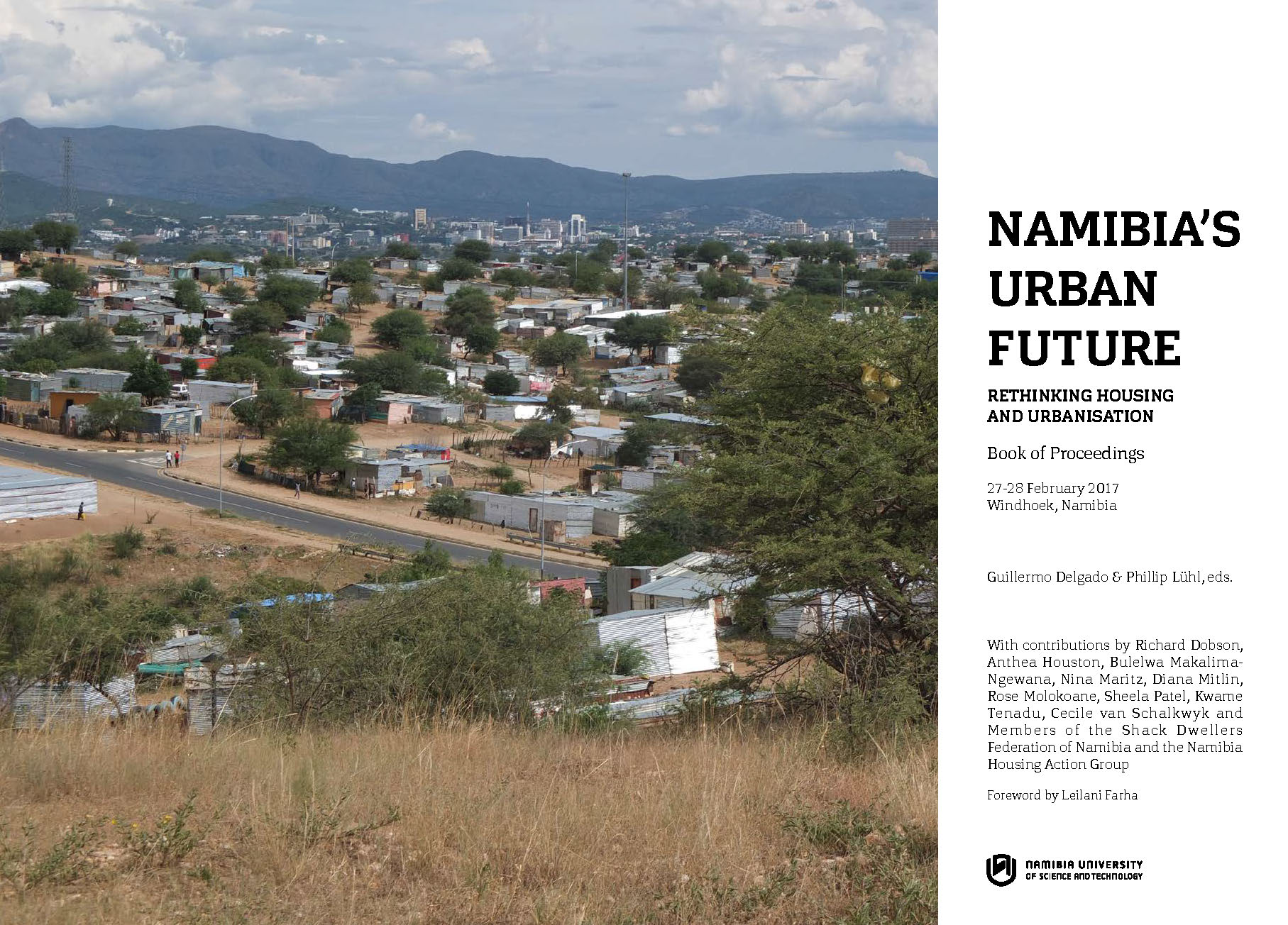 Date:
Thursday, August 27, 2020 - 10:30