NINA MARITZ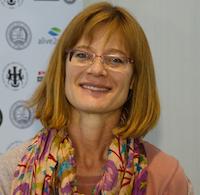 Principal and founder, Nina Maritz architecture.
Nina Maritz is principal and founder of Nina Maritz Architects in Windhoek, Namibia. A graduate of the University of Cape Town School of Architecture in 1991, she establishing her firm seven years later with a focus on environmental sustainability and community projects.
A member of Namibia Institute of Architects, Nina is an author of numerous papers on energy efficiency and sustainability within developing countries, as well as a frequent lecturer on sustainable architecture.
Using an approach that is deferential to both the setting and its people, Nina's work draws not only from her familiarity with environmental and social factors, but also from an ability to delve into the detailed particulars of each place by simultaneously being both vernacular scholar and environmental designer.  Utilizing an honest expression of materials and structure, her firm's growing portfolio elicits a sensitive approach to place and climate, rooted in a deep appreciation of Namibia's unique history, culture, and ecology.
Web: https://www.facebook.com/ninamaritzarchitects
Web (interview): http://www.afritecture.org/profiles/nina-maritz-understanding-responding-context